---
Home About us Comments Webmaster Links Books To Read Movies Archives Blog Shop
Katrina
-----------------------------------------------------------------------------------------------------------------
09-15-05 Bush promised federal funds to rebuild New Orleans, but give contracts to all his friends. First to Halliburton. He then suspends Davis bacon act of 1931, a law that said that anyone receiving Federal money, had to pay the prevailing wage, now people can be paid down to the minimum wage, of $5.15 an hour. Just how good do you think that the quality of the work will be. This is an insurance nightmare waiting to happen, when that buildings start to fall apart, a nightmare that we all will have to pay for. We will have to pay for it twice as well first with our tax dollars to Bush's friends, who will not pay one dime, due to the GOP still pushing for Tax cuts for the wealthy, then again with even higher insurance costs. There is talk in the Republican Party that Karl Rove has now been handed control over the rebuilding. As much as Bush wants to blame all levels of government The Federal branch holds the largest share of the blame. FEMA Did not respond in a appropriate manor. As clearly shown in the time line here is one more reason why First Responders Urged Not To Respond To Hurricane Impact Areas Unless Dispatched By State, Local Authorities. This is directly from the FEMA web site. Click here Or If they take it down Click here
-----------------------------------------------------------------------------------------------------------------
09-15-05 What I heard Bush say, and Repeated by the news reporters, and even by one of the survivors, that seems to have gone unnoticed.
Bush said that the Military will deal with any future disasters,
A survivor when asked said that she agreed that the military should deal with any future disasters.
Only Aaron Broussard, ducked the question if the military should handle situations in the future.
Am I the only one that heard that Bush wants to use that military, and not FEMA.
Are we are only a few baby steps away from Bush instituting Marshal law.
-----------------------------------------------------------------------------------------------------------------
09-13-05 Now that FEMA is restricting access to Louisiana so we cannot count the dead, if you die in Huston or any other state from illness or injuries received in the Hurricane, will it be like Iraq, if you do not die on the battle field they don't count?
-----------------------------------------------------------------------------------------------------------------
09-12-05 I Sense The hand of Rove. During the first days after the hurricane hit and the, levees breaking most reporters reported the story as to damage and people stranded in the city. After Rove was reported to be involved there was more reporting as a black white issue. Could it be that Rove, just as he bugged his own office and then accused someone else of doing it, is the one playing the race card. Now the Republicans can use it as a diversion by saying that we do not think that its is an issue about race, when they themselves through Rove are the ones doing it.
09-12-05 ACCORDING TO RUSH
You can't blame Bush for not responding to the problems in Louisiana...He doesn't live there.
-----------------------------------------------------------------------------------------------------------------
09-10-05 Al Gore airlifts victims from New Orleans Former vice president, and elected President in 2000, which we now know after the votes were counted, a year later in 2001, chartered two private aircraft At a cost of $50,000.00 each and on Sept 3rd and Sept 4th he helped save 270 people and when asked he declined to be interviewed.
source: http://www.cnn.com/2005/POLITICS/09/09/katrina.gore.ap/index.html
-----------------------------------------------------------------------------------------------------------------
09-10-05 And even more dribble from the right spin machine. According to the newest talking points Rush today said "How can you expect the president to be responsible for what happened in Louisiana, he doesn't even live there". Well with that logic why did we attack Iraq he doesn't live there either.
-----------------------------------------------------------------------------------------------------------------
09-10-05 A thought on the Repealing of the Davis Bacon act (See Below), but if you worked there as a say carpenter and was making $10.00 an hour before the Destruction unleashed by the incompetence of George W. Bush, and now when you go back to work, you get told by your boss that oh by the way, we just got a contract from the government to rebuild the town hall. Oh and by the way you're getting a pay cut down to $5.50 an hour. I somehow think that the Cons would find some way to spin it that the Democrats are trying to take food out of your mouth.
If it is so good to cut wages, then should not the logic follow that the companies that hire the workers also get a pay cut or be restricted from making a profit?
Now that Bush has reduced the wages to Wal-Mart that will also mean that more people will now need government assistance to live, just as Wal-Mart workers do.
Bush is now creating even more working poor.
-----------------------------------------------------------------------------------------------------------------
09-09-05 Read the new insult that Bush has stuck up the ass of the people who are to work on rebuilding Alabama, Florida, Louisiana and Mississippi. Notice that he has not said that the contractors will not have their profits cut. This is a story that needs to be kept alive and spread across the web. Now that the people who have lost everything and need to rebuild their lives Bush just turns the screws on the people even more. He is now attempting to reduce them to slave labor.
Bush lifts wage rules for Katrina
President signs executive order allowing contractors to pay below prevailing wage in affected areas.
September 8, 2005: 9:42 PM EDT

source: http://money.cnn.com/2005/09/08/news/economy/katrina_wages.reut/index.htm
WASHINGTON (Reuters) - President Bush issued an executive order Thursday allowing federal contractors rebuilding in the aftermath of Hurricane Katrina to pay below the prevailing wage.
In a notice to Congress, Bush said the hurricane had caused "a national emergency" that permits him to take such action under the 1931 Davis-Bacon Act in ravaged areas of Alabama, Florida, Louisiana and Mississippi.
Bush's action came as the federal government moved to provide billions of dollars in aid, and drew rebukes from two of organized labor's biggest friends in Congress, Rep. George Miller of California and Sen. Edward Kennedy of Massachusetts, both Democrats.
"The administration is using the devastation of Hurricane Katrina to cut the wages of people desperately trying to rebuild their lives and their communities," Miller said.
"President Bush should immediately realize the colossal mistake he has made in signing this order and rescind it and ensure that America puts its people back to work in the wake of Katrina at wages that will get them and their families back on their feet," Miller said.
"I regret the president's decision," said Kennedy.
"One of the things the American people are very concerned about is shabby work and that certainly is true about the families whose houses are going to be rebuilt and buildings that are going to be restored," Kennedy said.
The Davis-Bacon law requires federal contractors to pay workers at least the prevailing wages in the area where the work is conducted. It applies to federally funded construction projects such as highways and bridges.
Bush's executive order suspends the requirements of the Davis-Bacon law for designated areas hit by the storm.
-----------------------------------------------------------------------------------------------------------------
09-09-05 KATRINA TIMELINE
Don't Let The Rove Spin Machine get a foot hold with the bull shit that they are problem solvers, and that they do not want to play the blame game... What else do you expect them to say. it's the same crap that you would not take from your children when they lie to you about having not don something. Read the time line
THEY ARE AT FAULT!!!
Friday, August 26
GOV. KATHLEEN BLANCO DECLARES STATE OF EMERGENCY IN LOUISIANA: [Office of the Governor]
GULF COAST STATES REQUEST TROOP ASSISTANCE FROM PENTAGON: At a 9/1 press conference, Lt. Gen. Russel Honoré, commander, Joint Task Force Katrina, said that the Gulf States began the process of requesting additional forces on Friday, 8/26. [DOD]
Saturday, August 27
5AM — KATRINA UPGRADED TO CATEGORY 3 HURRICANE [CNN]
GOV. BLANCO ASKS BUSH TO DECLARE FEDERAL STATE OF EMERGENCY IN LOUISIANA: "I have determined that this incident is of such severity and magnitude that effective response is beyond the capabilities of the State and affected local governments, and that supplementary Federal assistance is necessary to save lives, protect property, public health, and safety, or to lessen or avert the threat of a disaster." [Office of the Governor]
FEDERAL EMERGENCY DECLARED, DHS AND FEMA GIVEN FULL AUTHORITY TO RESPOND TO KATRINA: "Specifically, FEMA is authorized to identify, mobilize, and provide at its discretion, equipment and resources necessary to alleviate the impacts of the emergency." [White House]
Sunday, August 28
2AM – KATRINA UPGRADED TO CATEGORY 4 HURRICANE [CNN]
7AM – KATRINA UPGRADED TO CATEGORY 5 HURRICANE [CNN]
MORNING — LOUISIANA NEWSPAPER SIGNALS LEVEES MAY GIVE: "Forecasters Fear Levees Won't Hold Katrina": "Forecasters feared Sunday afternoon that storm driven waters will lap over the New Orleans levees when monster Hurricane Katrina pushes past the Crescent City tomorrow." [Lafayette Daily Advertiser]
9:30 AM — MAYOR NAGIN ISSUES FIRST EVER MANDATORY EVACUATION OF NEW ORLEANS: "We're facing the storm most of us have feared," said Nagin. "This is going to be an unprecedented event." [Times-Picayune]
4PM – NATIONAL WEATHER SERVICE ISSUES SPECIAL HURRICANE WARNING: In the event of a category 4 or 5 hit, "Most of the area will be uninhabitable for weeks, perhaps longer. … At least one-half of well-constructed homes will have roof and wall failure. All gabled roofs will fail, leaving those homes severely damaged or destroyed. … Power outages will last for weeks. … Water shortages will make human suffering incredible by modern standards." [National Weather Service]
AFTERNOON — BUSH, BROWN, CHERTOFF WARNED OF LEVEE FAILURE BY NATIONAL HURRICANE CENTER DIRECTOR: Dr. Max Mayfield, director of the National Hurricane Center: "'We were briefing them way before landfall. … It's not like this was a surprise. We had in the advisories that the levee could be topped.'" [Times-Picayune; St. Petersburg Times]
LATE PM – REPORTS OF WATER TOPPLING OVER LEVEE: "Waves crashed atop the exercise path on the Lake Pontchartrain levee in Kenner early Monday as Katrina churned closer." [Times-Picayune]
APPROXIMATELY 30,000 EVACUEES GATHER AT SUPERDOME WITH ROUGHLY 36 HOURS WORTH OF FOOD [Times-Picayune]
Monday, August 29
7AM – KATRINA MAKES LANDFALL AS A CATEGORY 4 HURRICANE [CNN]
8AM – MAYOR NAGIN REPORTS THAT WATER IS FLOWING OVER LEVEE: "I've gotten reports this morning that there is already water coming over some of the levee systems. In the lower ninth ward, we've had one of our pumping stations to stop operating, so we will have significant flooding, it is just a matter of how much." [NBC's "Today Show"]
MORNING — BUSH CALLS SECRETARY CHERTOFF TO DISCUSS IMMIGRATION: "I spoke to Mike Chertoff today — he's the head of the Department of Homeland Security. I knew people would want me to discuss this issue [immigration], so we got us an airplane on — a telephone on Air Force One, so I called him. I said, are you working with the governor? He said, you bet we are." [White House]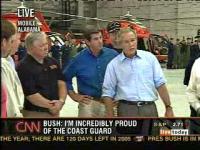 MORNING – BUSH SHARES BIRTHDAY CAKE PHOTO-OP WITH SEN. JOHN MCCAIN [White House]
10AM — BUSH VISITS ARIZONA RESORT TO PROMOTE MEDICARE DRUG BENEFIT: "This new bill I signed says, if you're a senior and you like the way things are today, you're in good shape, don't change. But, by the way, there's a lot of different options for you. And we're here to talk about what that means to our seniors." [White House]
LATE MORNING – LEVEE BREACHED: "A large section of the vital 17th Street Canal levee, where it connects to the brand new 'hurricane proof' Old Hammond Highway bridge, gave way late Monday morning in Bucktown after Katrina's fiercest winds were well north." [Times-Picayune]
11:30AM — MICHAEL BROWN FINALLY REQUESTS THAT DHS DISPATCH 1,000 EMPLOYEES TO REGION, GIVES THEM TWO DAYS TO ARRIVE: "Brown's memo to Chertoff described Katrina as 'this near catastrophic event' but otherwise lacked any urgent language. The memo politely ended, 'Thank you for your consideration in helping us to meet our responsibilities.'" [AP]
2PM — BUSH TRAVELS TO CALIFORNIA SENIOR CENTER TO DISCUSS MEDICARE DRUG BENEFIT: "We've got some folks up here who are concerned about their Social Security or Medicare. Joan Geist is with us. … I could tell — she was looking at me when I first walked in the room to meet her, she was wondering whether or not old George W. is going to take away her Social Security check." [White House]
9PM — RUMSFELD ATTENDS SAN DIEGO PADRES BASEBALL GAME: Rumsfeld "joined Padres President John Moores in the owner's box…at Petco Park." [Editor & Publisher]
Tuesday, August 30
9AM – BUSH SPEAKS ON IRAQ AT NAVAL BASE CORONADO [White House]
MIDDAY – CHERTOFF FINALLY BECOMES AWARE THAT LEVEE HAS FAILED: "It was on Tuesday that the levee–may have been overnight Monday to Tuesday–that the levee started to break. And it was midday Tuesday that I became aware of the fact that there was no possibility of plugging the gap and that essentially the lake was going to start to drain into the city." [Meet the Press, 9/4/05]
PENTAGON CLAIMS THERE ARE ENOUGH NATIONAL GUARD TROOPS IN REGION: "Pentagon spokesman Lawrence Di Rita said the states have adequate National Guard units to handle the hurricane needs." [WWL-TV]
MASS LOOTING REPORTED, SECURITY SHORTAGE CITED: "The looting is out of control. The French Quarter has been attacked," Councilwoman Jackie Clarkson said. "We're using exhausted, scarce police to control looting when they should be used for search and rescue while we still have people on rooftops." [AP]
U.S.S. BATAAN SITS OFF SHORE, VIRTUALLY UNUSED: "The USS Bataan, a 844-foot ship designed to dispatch Marines in amphibious assaults, has helicopters, doctors, hospital beds, food and water. It also can make its own water, up to 100,000 gallons a day. And it just happened to be in the Gulf of Mexico when Katrina came roaring ashore. The Bataan rode out the storm and then followed it toward shore, awaiting relief orders. Helicopter pilots flying from its deck were some of the first to begin plucking stranded New Orleans residents. But now the Bataan's hospital facilities, including six operating rooms and beds for 600 patients, are empty." [Chicago Tribune]
3PM – PRESIDENT BUSH PLAYS GUITAR WITH COUNTRY SINGER MARK WILLIS [AP]
BUSH RETURNS TO CRAWFORD FOR FINAL NIGHT OF VACATION [AP]
Wednesday, August 31
TENS OF THOUSANDS TRAPPED IN SUPERDOME; CONDITIONS DETERIORATE: "A 2-year-old girl slept in a pool of urine. Crack vials littered a restroom. Blood stained the walls next to vending machines smashed by teenagers. 'We pee on the floor. We are like animals,' said Taffany Smith, 25, as she cradled her 3-week-old son, Terry. … By Wednesday, it had degenerated into horror. … At least two people, including a child, have been raped. At least three people have died, including one man who jumped 50 feet to his death, saying he had nothing left to live for. There is no sanitation. The stench is overwhelming."" [Los Angeles Times, 9/1/05]
PRESIDENT BUSH FINALLY ORGANIZES TASK FORCE TO COORDINATE FEDERAL RESPONSE: Bush says on Tuesday he will "fly to Washington to begin work…with a task force that will coordinate the work of 14 federal agencies involved in the relief effort." [New York Times, 8/31/05]
JEFFERSON PARISH EMERGENCY DIRECTOR SAYS FOOD AND WATER SUPPLY GONE: "Director Walter Maestri: FEMA and national agencies not delivering the help nearly as fast as it is needed." [WWL-TV]
80,000 BELIEVED STRANDED IN NEW ORLEANS: Former Mayor Sidney Barthelemy "estimated 80,000 were trapped in the flooded city and urged President Bush to send more troops." [Reuters]
3,000 STRANDED AT CONVENTION CENTER WITHOUT FOOD OR WATER: "With 3,000 or more evacuees stranded at the convention center — and with no apparent contingency plan or authority to deal with them — collecting a body was no one's priority. … Some had been at the convention center since Tuesday morning but had received no food, water or instructions." [Times-Picayune]
5PM — BUSH GIVES FIRST MAJOR ADDRESS ON KATRINA: "Nothing about the president's demeanor… — which seemed casual to the point of carelessness — suggested that he understood the depth of the current crisis." [New York Times]
8:00PM – CONDOLEEZZA RICE TAKES IN A BROADWAY SHOW: "On Wednesday night, Secretary Rice was booed by some audience members at 'Spamalot!, the Monty Python musical at the Shubert, when the lights went up after the performance." [New York Post, 9/2/05]
9PM — FEMA DIRECTOR BROWN CLAIMS SURPRISE OVER SIZE OF STORM: "I must say, this storm is much much bigger than anyone expected." [CNN]
Thursday, September 1
8AM — BUSH CLAIMS NO ONE EXPECTED LEVEES TO BREAK: "I don't think anybody anticipated the breach of the levees." [Washington Post]
CONDOLEEZZA RICE VISITS U.S. OPEN: "Rice, [in New York] on three days' vacation to shop and see the U.S. Open, hitting some balls with retired champ Monica Seles at the Indoor Tennis Club at Grand Central." [New York Post]
STILL NO COMMAND AND CONTROL ESTABLISHED: Terry Ebbert, New Orleans Homeland Security Director: "This is a national emergency. This is a national disgrace. FEMA has been here three days, yet there is no command and control. We can send massive amounts of aid to tsunami victims, but we can't bail out the city of New Orleans." [Fox News]
2PM — MAYOR NAGIN ISSUES "DESPERATE SOS" TO FEDERAL GOVERNMENT: "This is a desperate SOS. Right now we are out of resources at the convention centre and don't anticipate enough buses. We need buses. Currently the convention centre is unsanitary and unsafe and we're running out of supplies." [Guardian, 9/2/05]
2PM — MICHAEL BROWN CLAIMS NOT TO HAVE HEARD OF REPORTS OF VIOLENCE: "I've had no reports of unrest, if the connotation of the word unrest means that people are beginning to riot, or you know, they're banging on walls and screaming and hollering or burning tires or whatever. I've had no reports of that." [CNN]
NEW ORLEANS "DESCEND[S] INTO ANARCHY": "Storm victims were raped and beaten, fights and fires broke out, corpses lay out in the open, and rescue helicopters and law enforcement officers were shot at as flooded-out New Orleans descended into anarchy Thursday. 'This is a desperate SOS,' the mayor said." [AP]
CONDOLEEZZA RICE GOES SHOE SHOPPING: "Just moments ago at the Ferragamo on 5th Avenue, Condoleeza Rice was seen spending several thousands of dollars on some nice, new shoes (we've confirmed this, so her new heels will surely get coverage from the WaPo's Robin Givhan). A fellow shopper, unable to fathom the absurdity of Rice's timing, went up to the Secretary and reportedly shouted, 'How dare you shop for shoes while thousands are dying and homeless!'" [Gawker]
MICHAEL BROWN FINALLY LEARNS OF EVACUEES IN CONVENTION CENTER: "We learned about that (Thursday), so I have directed that we have all available resources to get that convention center to make sure that they have the food and water and medical care that they need." [CNN]
Friday, September 2
ROVE-LED CAMPAIGN TO BLAME LOCAL OFFICIALS BEGINS: "Under the command of President Bush's two senior political advisers, the White House rolled out a plan…to contain the political damage from the administration's response to Hurricane Katrina." President Bush's comments from the Rose Garden Friday morning formed "the start of this campaign." [New York Times, 9/5/05]
9:35AM — BUSH PRAISES MICHAEL BROWN: "Brownie, you're doing a heck of a job." [White House, 9/2/05]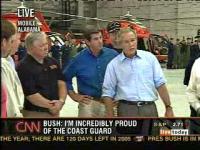 10 AM — PRESIDENT BUSH STAGES PHOTO-OP "BRIEFING": Coast Guard helicopters and crew diverted to act as backdrop for President Bush's photo-op.
BUSH VISIT GROUNDS FOOD AID: "Three tons of food ready for delivery by air to refugees in St. Bernard Parish and on Algiers Point sat on the Crescent City Connection bridge Friday afternoon as air traffic was halted because of President Bush's visit to New Orleans, officials said." [Times-Picayune]
LEVEE REPAIR WORK ORCHESTRATED FOR PRESIDENT'S VISIT: Sen. Mary Landrieu, 9/3: "Touring this critical site yesterday with the President, I saw what I believed to be a real and significant effort to get a handle on a major cause of this catastrophe. Flying over this critical spot again this morning, less than 24 hours later, it became apparent that yesterday we witnessed a hastily prepared stage set for a Presidential photo opportunity; and the desperately needed resources we saw were this morning reduced to a single, lonely piece of equipment." [Sen. Mary Landrieu]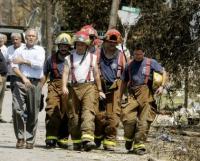 BUSH USES 50 FIREFIGHTERS AS PROPS IN DISASTER AREA PHOTO-OP: A group of 1,000 firefighters convened in Atlanta to volunteer with the Katrina relief efforts. Of those, "a team of 50 Monday morning quickly was ushered onto a flight headed for Louisiana. The crew's first assignment: to stand beside President Bush as he tours devastated areas." [Salt Lake Tribune; Reuters]
3PM — BUSH "SATISFIED WITH THE RESPONSE": "I am satisfied with the response. I am not satisfied with all the results." [AP]
Saturday, September 3
SENIOR BUSH ADMINISTRATION OFFICIAL LIES TO WASHINGTON POST, CLAIMS GOV. BLANCO NEVER DECLARED STATE OF EMERGENCY: The Post reported in their Sunday edition "As of Saturday, Blanco still had not declared a state of emergency, the senior Bush official said." They were forced to issue a correction hours later. [Washington Post, 9/4/05]
9AM — BUSH BLAMES STATE AND LOCAL OFFICIALS: "[T]he magnitude of responding to a crisis over a disaster area that is larger than the size of Great Britain has created tremendous problems that have strained state and local capabilities. The result is that many of our citizens simply are not getting the help they need." [White House, 9/3/05]
Source: http://www.thinkprogress.org/katrina-timeline
-----------------------------------------------------------------------------------------------------------------
09-07-05 The Right Wing (Karl Rove Spin Machine) Is At It Again All Day Yesterday
What has been coming out of the Rovian Spin Machine is that The Governor is at fault, because she did not put in a formal request for aid. Well All I can Say Is Read It For Your Self She Did Put In A Formal Request. On August 28th 2005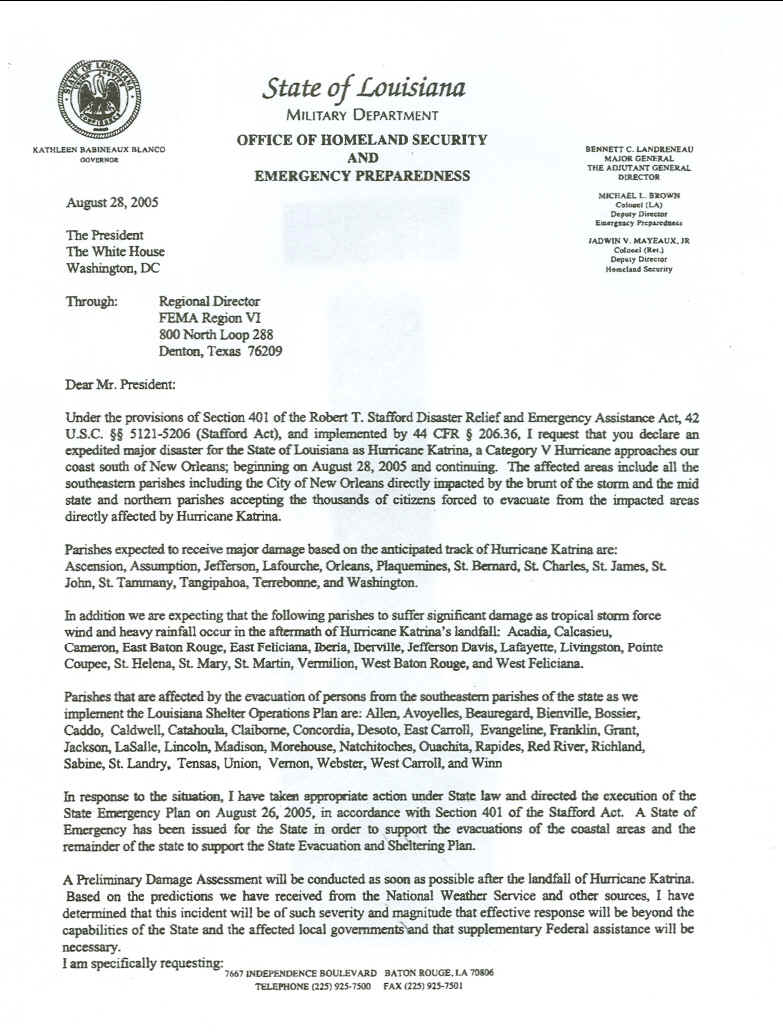 Click here to down load the full document.
..............................................................................................................
What has been said is why didn't they use the public busses to get out? Well first of all most of the people that ran the busses already left the city, and even if the did not the public busses could only handle about 10 thousand people what about the remaining 90 thousand people. If the people would have taken the busses than the the Fox (foe) news channels would have accused the survivors of grand theft and looting. After all the Fox (foe) news already showed pictures of white people in supermarkets and proudly called them survivors, but when a black person did the same thing they called them looters.
.............................................................................................................
When I listened to the Meet the Press again something jumped out at me when Department of Homeland Security Secretary, Michael Chertoff said that " Well, I think if you look at what actually happened, I remember on Tuesday morning picking up newspapers and I saw headlines, "New Orleans Dodged The Bullet," because if you recall the storm moved to the east and then continued on and appeared to pass with considerable damage but nothing worse." ...and he felt that there was nothing to worry about. (click here for the full transcript) Well think about it for just one minute, when he read a newspaper... You mean to tell me that our information and security is based on a news paper, he never read the request from the governor, he never once received a phone call from any single person in Louisiana? He never turned on a Television? He never even called the Mayor Or the Governor, and said HOW ARE YOU! DO YOU NEED ANY HELP!
NO!...
ACCORDING TO HIM HE GOT ALL THE INFORMATION HE NEEDED FROM A NEWSPAPER.
NOT A CALL FROM THE MAYOR, NOT A CALL FROM THE GOVERNOR, NOT FROM INFORMATION FROM ANY AGENTS, NOT FROM THE COST GUARD, NOT THE NATIONAL WEATHER SERVICE, NOT FROM THE FBI, NOT THE LOCAL POLICE, NOT THE STATE POLICE, NOT THE NATIONAL GUARD, NOT FROM ONE SINGLE BRANCH THAT WAS MERGED INTO THE HOMELAND SECURITY. HE GOT HIS INFORMATION FROM A NEWSPAPER.
WE ARE NOW INTRUSTING OUR SECURITY TO A NEWSPAPER!!!
09-06-05 MUST SEE Clip From Keith Olbermann As he puts a point on the situation like no one else can. Click Here Source: http://media.putfile.com/OlbermannSwings
09-05-05 FURTHER ATROCITIES OF THE BUSH ADMINISTRATION.
Last week Wal-Mart sent 3 trucks with water and FEMA turned them back saying that they did not need them.
At the same time the USCG called the Governor Of Louisianan that they had a tanker full of Diesel oil and to come and get it when they got there FEMA told them not to give them the fuel the fuel.
On Saturday Sept 3 FEMA Cut the governors emergency communications lines, Sheriff Harry Lee reconnected the lines and then posted armed guards around them.
This is from the the Meet The Press of 09-04-05 as Tim Russet spoke to Aaron Broussard, president of Jefferson parish (county), in Louisiana. Click Here for the audio, to hear it for yourself.
Karl Rove is now to head up the Whitehouse Spin machine to now blame the victims, and the Governor and the Mayor and the Democratic Senators of Louisiana. The Federal Government (Bush and his appointees) are completely without blame, as Karl Rove will tell it. as he attempts to go for a two-for and silence Cindy Sheehan.
09-06-05 IT'S TIME FOR THEM TO GO !
By: William A. Peary, Founder and Editor Of Founding Freedoms.com
This is the administration that says all life is valuable, when they want to create a topic to cause division in this country, but when the reality comes, they just throw life away like an old shoe. They stand by and do nothing while thousand die. This is an administration that while their citizens are in desperate struggle to survive, they are out going to Broadway plays, and go buying thousand dollar shoes. This while people are starving they are off eating cake at some fundraiser. This while people are dying they are still off somewhere and cannot be found.
I don't see any compassion or conservatism in this administration. An administration that it now responsible for thousands of deaths, not just the nearly 2,000 American solders, not in the over 50 thousand Iraqis, but now add to it the thousands of of Louisiana citizens who were promised help and then ignored. This an administration that is responsible for the looting of this country's wealth to give it to a select few.
I remember during the 2004 elections Vice President Dick Cheney said when talking about our country's security he said "If we make the wrong choice"... Well this administration just proved, not only again but beyond any shadow of a doubt, that we did make the wrong choice. As Keith Olbermann puts it "They cannot protect us from the simplest of biological weapons... standing water". Why is it that when the Hurricanes hit Florida last year material and supplies were sent in the very next day? Why is it that Alabama's Republican Governor claims that the Bush administration had supplies staged and ready to go after Katrina hit? Cold it be because you either need to have a brother in the Whitehouse, or a Republican as Governor or has this administration taken partisan politics to a new low. If you are not in their party then you are quite literally expendable. The Governor and the senators and the Mayor have been screaming for years that they needed the funding to shore up the levees, but the money like their national guard along with their equipment wound up in Iraq. The funding given to Republican Governor to look good and build a bridge to no where to an island with 50 people on it. "The needs of the Few Rich out weigh the needs of the many" Not only do the wealthy get their tax cut but they get the benefits as well, and they get to use the money that we the average people pay as well, and we are left with nothing.
This administration could not find the time to deal with Louisiana but they could find time last week to send out a mailing to everyone in the party to support the repeal of the estate tax which only effected people who have more than 5 million dollars, certainly not the average person in this country. Again help the rich at the expense of the poor. Give more to the ones that do not need it, the ones that use the average American and the poor to get their money in the first place.
I have said it before and I will say it again This entire administration needs to be Impeached and removed from office. Their incompetence and trail of destruction needs to end.
In the words of the man who actually did win the 2000 election, which he did because a year after all was said and done all the votes in Florida were counted and by several methods, with hanging chads without hanging chads with the dimples and without, and when all was said and done we found out that Al Gore had won Florida.
IT'S TIME FOR THEM TO GO !
By: William A. Peary 09-06-05
Founder and Editor Of Founding Freedoms.com
---
Home About us Comments Webmaster Links Books To Read Movies Archives Blog Shop